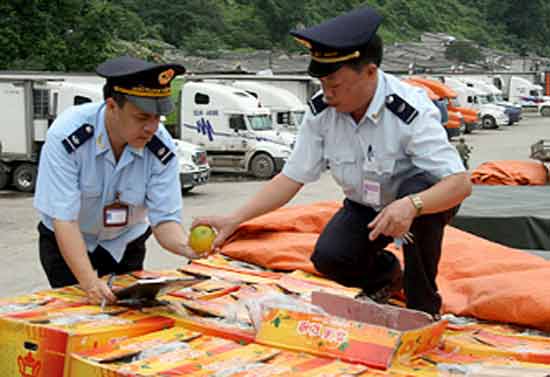 In accordance with the Circular No. 12/2015/TT-BNNPTNT dated March 16, 2015, providing guidance on food safety inspection of goods originating from imported plants. Hand goods for personal consumption of eligibility for import tax exemption; goods in diplomatic bags and consular bags; transited goods; goods sent in bonded warehouses; goods being samples for test, research; goods are exhibits in fairs and exhibitions exempted from food safety inspection.
For other goods, importers must register for food safety and facilitate for officers of inspection agencies to inspect, sample for tests and monitor goods as prescribed. Inspection contents include application inspection: inspection agency shall inspect the applications (origin, history of compliance with food safety regulations of the organization, individuals, production facilities, and the
provisions for genetically modified foods, irradiated foods and other provisions related) and bonded inspection (does not apply to batches of goods temporarily imported for re-export): inspection agency shall inspect the status of packaging, labeling when the goods arrive the checkpoint; inspect the conformity with the declared contents and unusual signs with risk of food unsafe.
For imported goods of violations against regulations on food safety, importers must be forced to be re-exported or destroyed and goods batches detected to commit violations against regulations on food safety, but can be used for other purposes without risks to human health shall be changed their use purpose.
This Circular takes effect on May 05, 2015