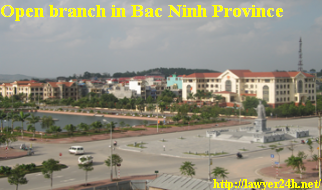 Q: We are a supply company in Singapore servicing the offshore industry. Several of our clients have vessel, rigs or projects in Vietnam using Bac Ninh as a base, with this in mind we are exploring the possibilities to open a service branch in Bac Ninh province and seek some advice in how to best approach this?
A: I am Lawyer of SB Law. I was entrusted to provide you legal advice regarding to establishment of foreign invested company in Vietnam.
We understand that your business plan is to setting up a branch office in Bac Ninh province for supplying of products in Vietnam.
In Vietnam, possibility of setting up a branch office for goods distribution is not high.
Generally, the competent authority shall guide you to adopt an alternative option – setting up a subsidiary company in Vietnam which is 100% owned by the parent company in Thailand.
For this option, you have to invest capital into Vietnam. Vietnam Law does not impose any minimum capital for setting up foreign invested company for goods distribution.
However, in practice, based on your proposed scope of business in long term, the competent authority shall require you to explain on the feasibility of the business activities of the Company in Vietnam with such proposed investment capital. A rate of 350,000USD upward should be considered in this case.
We also would like to note that, several products are not allowed or inhibited for importation and distribution of foreign invested company.
For example, oil or lubricant shall not be allowed for importation and distribution by foreign invested company in Vietnam. Meanwhile, garment and clothing are not encouraged to be imported into Vietnam.
Thus, in order to provide you a comprehensive and accurate legal service proposal, we shall need you to provide us list of products to be supplied by your Company in Vietnam.