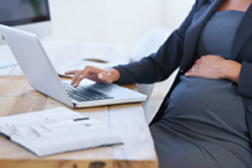 The female employee is entitled to take leave before and after birth, collectively of six months.
The prenatal period of leave shall not be more than two months. The female employees under maternity leave are also entitled to social insurance for that period. If the employee has to work before the expiry of the maternity leave then the employer can allow her to work only on receipt of medical certificate from competent medical facility that she is healthy and medical fit to work again.
The female employee should have completed at least four months of maternity leave to resume again. But the employer shall be required to pay the maternity allowance and social insurance for the entire maternity leave period of six months.
The employer is required to guarantee the old job to the female employee upon returning back from maternity leave. If for any reason the old job is not possible then an alternative job with the same salary as drawn before the leave should be given.
Under Article 154, the employer is obliged to ensure gender equality at workplace and take opinions of the female employees before making any decision on the rights and interest of women